The Beginning :)

Like many horse bloggers, it seems, I grew up loving and riding horses, only to fall out of them for a few years once I "grew up" (hah!) and went to college.
I started riding when I was five. I don't remember the name of this cute little POA, but she must have been sweet, because after a few lessons on her, I was HOOKED... and hooked hard.
I quickly graduated to riding the trainer's Arabians. There was Amber (the bay) and Obsession, my favorite, who was a huge Polish-bred chestnut gelding. In photographic retrospect, my instructor probably wasn't the best, as every photo of me riding one of her horses includes side reins or some kind of "keep your head down" training gadget. But I had fun, and learned a lot about riding and horsemanship over the next few years.
I had to tack up my own horse to be able to ride, which is difficult when you're not even 4 ft tall yet and your horse is 15.3hh. But I persevered ;)
When I was ten, my parents bought me my first horse, Empress. She was a greenbroke 4 year old Arabian mare. You can imagine how that went, LOL. She was a cute horse, and very smart, but too much for me to handle.
After a year or two, my parents sold her and I spent a few years without a horse, riding school horses at a new barn. My favorite was "Merlin," a gigantic (17.3hh) ancient OTTB. He and I had some good times. I competed in my first schooling show with him, falling off when he slipped in the mud. I remember falling, getting up and taking a bow before walking all the way across the arena to the mounting block, getting back on, and continuing the class. There's a photo out there of that "precious moment" somewhere... one of these days I'll have to look for it.
I rode various other school horses during this time, like "Susie," a fat, lazy and obstinate appy mare. I rode her English and we showed in 4-H. She would buck like crazy (the only spirited thing she really did haha) if my leg slipped back at ALL when we jumped, so I learned to keep my lower leg steady from her.
With Susie, I won my first blue ribbons, in English Equitation and Bareback Equitation.
After awhile (and a lot of begging, haha) I convinced my parents to let me get another horse of my own. That's when Sly comes in. He was the first horse that I ever really bonded with. He was a Quarab with the patience of a saint, but he would spook at air. He taught me a lot, and together we learned the ropes of dressage and jumping. We were the Grand Champions at the 4-H English Show one year, which remains one of my favorite "horse" memories.
Here I am trying him out for the first time ever... before my parents bought him. The lady in the picture is Cathy Peterson, who was my riding instructor for many years after this.
I even trained him to go western one year for the 4-H fair:
The same year I did this with a friend's pony:
Sly and I with my best friend Sara and her boy, Titan. This was my first show with Sly :-P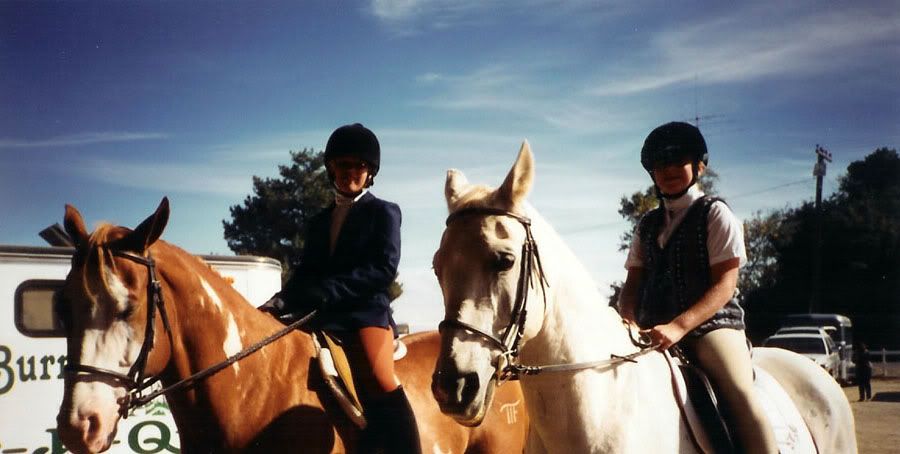 When I was fourteen, I decided I wanted to move away from dressage and jumping and instead show paint horses, because that's what my best friend, Sara was doing at the time. We sold Sly (I cried SO hard when he left)and my parents and I started looking for a new horse. Nothing felt right until Flame.
We actually drove to Utah to look at a different horse, but he ended up being too short for me (I'm 5'8, he was 15 or 15.1hh). The trainer just happened to have another horse for sale, too, but she was a lot greener. She had placed in the top ten at the APHA World Show in 2 year old Hunter Under Saddle in 1999, and was three, coming four. I was smitten the moment I laid eyes on her. She had the longest, thickest flaxen forelock, cute face markings and the kindest eyes. We bought her--rather impulsively, I might add.... do you see a theme?-- that same day and brought her home.
We showed on the APHA circuit that year with little success. She was green, I was still learning to ride western, and we did not have good training and guidance. By the end of the year, I was riding her in draw reins almost exclusively (ick!) and she was unhappy. We both were. She started rearing (totally unlike herself) and I knew it was time for a change. I ended up quitting that barn and moving Flame to my old riding instructor's place.
For the next few years, we played around with dressage and jumping, trying to undo a lot of the mess that was created by our previous training. Flame was a very sweet horse, but she definitely had an opinion and let you know if she didn't agree with something! Typical redhead, I suppose ;)
Flame and I went through a lot together, and came out stronger because of it. She taught me a lot about riding, and about how close of a relationship you can have with a horse. It about killed me to sell her, but when I started college I just didn't have the time to devote to her.
Which leaves me here, at the start of my new journey :)